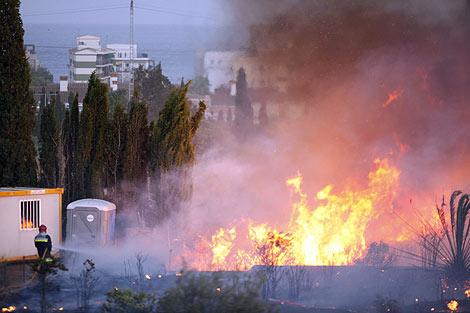 photo Juan Vicent/El Mundo
The Festival Internacional de Benicassim was forced to close early tonight. A large fire (looked like a brush fire) across the road from the site and extremely high winds meant that the fib organisers had to literally pull the plug on the event, plunging the entire site into darkness. The 70km winds have apparently damaged the stages. The Fib Club - a plastic bubble, was closed earlier in the evening.
It is very dark and the extraordinarily high winds are causing a dust storm. It is apparently mayhem and thousands of people are leaving the site, Queues for taxis are huge and the formerly happy crowd are more than a little disgruntled. Tom Tom Club were apparently in the middle of their set when the PA and lighting rigs started to wobble. Paul Weller's set was cut by 10 minutes it was at this point the power went off . There is a rumour that tonight's headliners, Kings of Leon are considering trying to appear tomorrow as they were previously scheduled to have a day off.
More as we get it ...